From Principal's Desk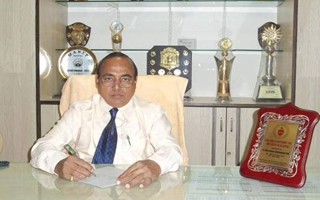 "WELCOME TO VEDANT GROUP OF INSTITUTIONS"
The current scenario in the local, national and international level is of intense competition with equal opportunity to all. The world has grown astonishingly in the past decade than ever before. Education which has always played an important role in the life of man has gained a lot of importance in the present times because it is not only what you have but how much you know which determines your success today.
The college gives due importance to co-curricular and extra-curricular activities. We work hard to ensure that our programs are relevant to the practical & enhanced by a strong academic base.
Our students represent our hopes and dreams. As parents, you want the best for your ward and we are proud to be working with you to ensure that they are given the right knowledge to face future challenges. Parents, students and the College authorities are a team and complement each other's efforts.
Education is not just a process of giving knowledge for a future job but a lifelong process which creates an understanding of moral and ethical values to guide one's life and make our students the future hope of the country.
At VEDANT, we hope to create an atmosphere of reverence for education and a healthy environment where work, sports and co-curricular activities will mould our students and spur them on to be the brightest and the best.
Just as a machine comes with a prescribed manual for its correct use, we want you to use the guidelines of the College to get the best out of your children. Teach your children to respect the College discipline and to be proud of it. The parents and school authorities together can instill proper discipline and basic values in the students while preparing them academically for their future.
Please do attend the Parent-Teacher Meetings as & when called for, to know your wards progress in the studies. We welcome your suggestions in academics.
We wish you all a very rewarding and successful experience at VEDANT Group of Institutions. Valuable suggestions regarding the improvement in the academics are highly solicited.
Dr S. S. Patil
PRINCIPAL
Our Major Recuriters