Research and Development Cell
Research is the backbone of academics. It simplifies concept building and transforms new ideas into innovations in pursuance of a new era of passion for researches. Each finding gives immense pleasure and multiplies enthusiasm towards achieving target.
The Research and Development Cell aims to nurture research culture in the College by promoting research in newly emerging and challenging areas of Engineering, Technology, Science and Humanities. It encourages the students and faculty to undertake the research in newly emerging frontier areas of Engineering, Technology, Science and Humanities including multidisciplinary fields. This enhances the general research capability of budding technocrats by way of participating in conferences, seminars, workshops, project competition, etc.
Research and Development (R&D) flourishes where young minds and experienced faculty work synergistically. At Vedant College of Engineering & Technology, R&D is pursued with the following objectives:
To develop new tools and techniques to expedite problem solving with special emphasis on rural and socially relevant issues.
To design novel methodologies in all the fields of Engineering and Technology.
To acquire new scientific knowledge.
The Research and Development Cell is functioning with the following objectives:
To create awareness and opportunities in Research and Development among the students & faculty and to create Research and Development atmosphere in every department.
To facilitate the growth of research activity among the academic community, including developing mechanisms and targets to achieve this.
To develop and coordinate strategies for maximizing the students and faculty's success in gaining external research funding.
To motivate the students for R&D activities in the area of their specialization.
To encourage staff members and students to publish technical papers for publishing in National and reputed International Conferences/Journals.
To encourage Students of all the disciplines in Engineering, Science , Humanities in R&D activities for their academic growth.
To undertake research activities and development projects offered by agencies such as ISRO, DRDO, CSIR, DST, AICTE, UGC, DBT, INFOSYS, etc.
To assist the students to apply funding for conducting research under student project scheme to various funding agencies like TNSCST, IEI (I), DRDO, TCS, Infosys etc.
To assist for applying and getting funds for conducting Seminar/Workshop/FDP from various available funding agencies.
To maintain and disseminate current information about relevant research policy areas and initiatives in government, in the professions and in relevant industries, including external funding opportunities.
To develop strategies to foster research collaborations within the faculty, across faculty and institutes, and with agencies outside the college.
To work with various departments to establish and develop faculty research priorities on interdisciplinary areas.
To interact with industry, government, professions and the wider community on all research matters promote students research activities to external stakeholders.
To coordinate faculty level workshops and staff development activities on research-related issues.
To encourage development of activities to attract the best research oriented environment.
To maintain effective links with government departments, authorities, business and industry organizations relevant to the college research activities.
To provide continuous improvements in academics to nurture the capabilities of the students.
Research Publications:
As a result of tireless efforts taken in the research activities, the college has to its credit many research publications in National and International peer reviewed Journals. The faculty members and students have presented research papers in various reputed national and international conferences.
The total 60 research papers have published in the year 2016, out of which 50 research papers have been published in journals and remaining have been published in conferences. It is noteworthy to mention here that out of total research papers published in international journals, more than 52 research papers have published in peer reviewed journals with impact factor in the range 1.2 to 5.
An academic environment is created in the institution and necessary facilities are provided to encourage and carry out research. Not only the staff members but also the students have brought name to the institution by bagging several prizes.
VCET STUDENTS /FACULTIES PUBLISHED INTERNATIONAL RESEARCH PAPER LIST 17th-18th ,March 2018
VCET STUDENTS /FACULTIES PUBLISHED INTERNATIONAL RESEARCH PAPER LIST 21st-22nd ,JANUARY 2018
VCET STUDENTS /FACULTIES PUBLISHED NATIONAL RESEARCH PAPER LIST JANUARY 2018
VCET STUDENTS /FACULTIES PUBLISHED INTERNATIONAL RESEARCH PAPER LIST/2016
Ph. D. Program:

Quality engineering education coupled with innovative research and development is absolutely essential towards the overall faculty development. Vedant College of Engineering and Technology provides an opportunity to faculty members for carrying out doctoral programme in various engineering disciplines to attain higher qualification in order to keep abreast with continuous technological activities. Accordingly Institute promotes participation of faculty in innovative research by providing a conducive environment, necessary facilities and motivation.
The Research and Development cell of the College is working on the following research disciplines.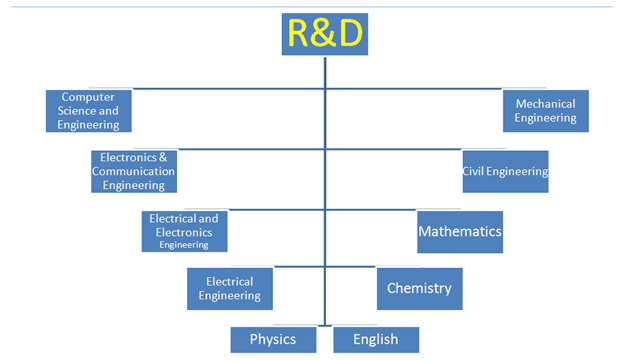 RESEARCH AND DEVELOPMENT TEAM
Dr. Ashish Mathew
Dr.Amit Sharma
Ph.D. (Mechanical Engineering)
Ph.D. (Computer Science & Engineering)
Our Major Recuriters